Water is not only the most important substance on earth but a giver of sound health. All plants and animals must have water to survive. If there was no water there would be no life on earth.
Now why do we find it difficult to conserve water in the most natural ways? Imagine you waking up to find no water to use; to bath, cook or even brush your teeth.
Yea, right?
So why do we waste water?
I really do not like having water restrictions, so I'm taking out my time to conserve water and find out ways i can solve water challenges. In the organization where i work, we seek to tackle the issue of non conservation of water through our YFarm Project by setting up climate resilient farms and engaging in surface irrigation and water harvesting.
This year's theme is Nature for Water – exploring nature-based solutions to the water challenges we face in the 21st century.
According to The CEO Water Mandate, Water is perhaps the most vital natural resource on the planet. It is necessary for human survival and a critical input into our food, manufacturing, and energy systems. It also sustains the ecosystems and climates upon which both our built and natural world rely. Today we are putting more pressure on freshwater resources than ever. Between a rapidly growing population and a shifting climate, water stress – and therefore water risk –  is increasing around the world. The United Nations Sustainable Development Goal 6 is focused on water, with several sub-goals related to different water challenges. We have seen promising progress, but there is much work to be done to make water sustainability a reality before the SDG target date of 2030. The World's Water Challenges as at 2017 are:
Growing Water Demand and Water Scarcity
Water Pollution
Insufficient Access to Safe, Affordable Water, Sanitation and Hygiene
Freshwater Ecosystems at Risk
Impacts of Climate Change on Water
No Silver Bullet Solutions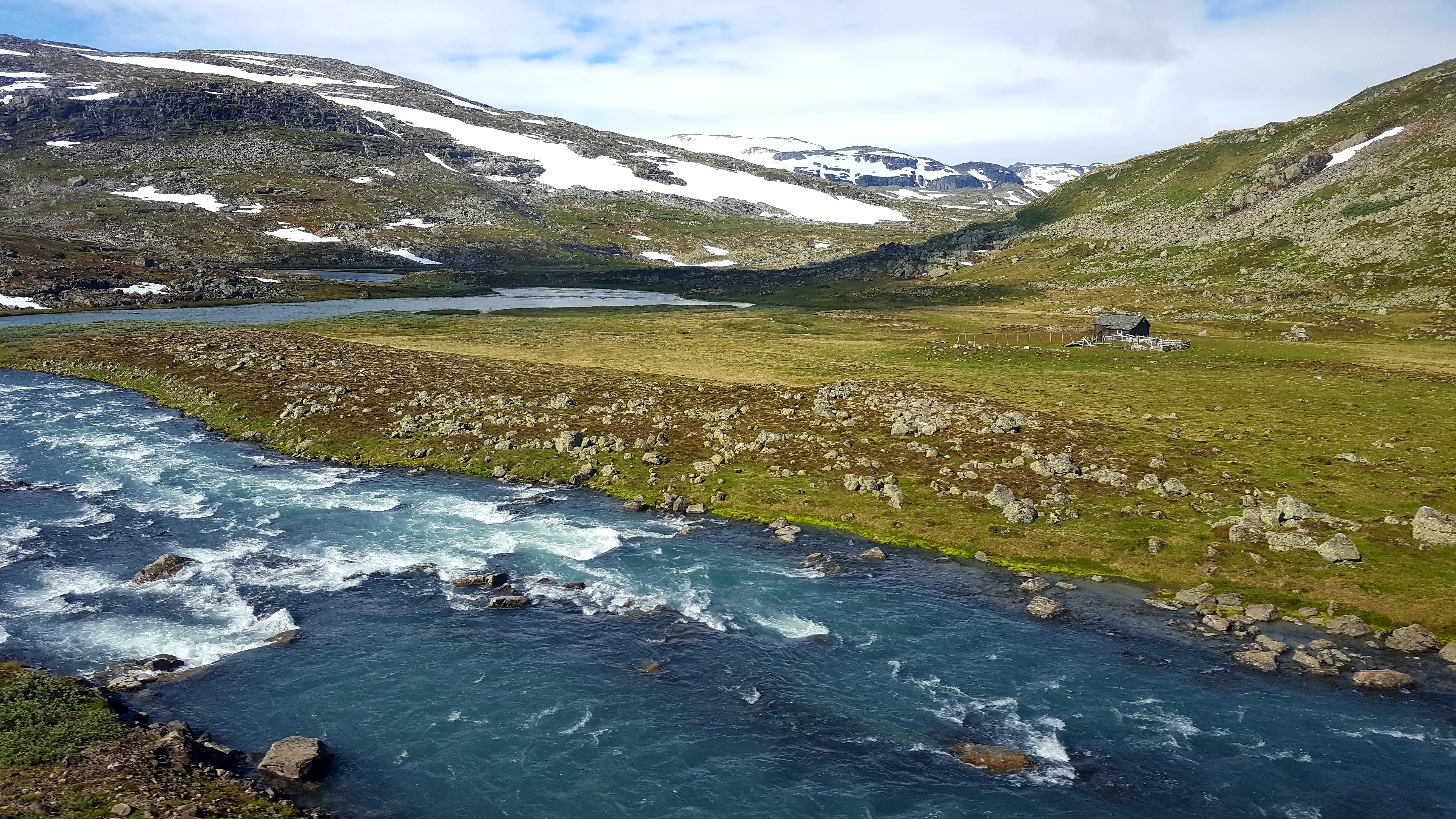 River in Mydral, France. Photo by: Roberto Marsanasco.
There are several ways in which we can conserve water naturally to solve the challenges we face in this 21st century.
 Use a bowl of water to rinse your fruits and vegetables instead of letting the water run in the sink.
Turn down the water pressure when you don't need it to come out of the faucet at full force.
Keep storage bottles of drinking water in the fridge – then drink all the water you run, instead of letting some of it waste away down the drain each time you fill a glass. (my cousin is super particular about this and I have learned to do this. I actually like to "give the ground" the bottom part of the remaining water in my cup, I really don't know why. I think i learnt it from my secondary (high) school.
Don't allow water to run while you wash dishes by hand. Fill up one side of the sink to wash all the dishes and another to rinse them. You'll save several gallons each time you practice this conservation technique. (My cousin's girls need to see this).
Don't run the water while you are brushing your teeth. Brush, then rinse with the faucet on.
Don't wash small loads of laundry in a full basin of water. Take the particular amount of water you need according to how much laundry you are going to do.
Lessen the hours you spend in the shower. Yesso! I am not saying you shouldn't bath well but that singing moment when the water is just running without necessarily being useful, that dancing moment or that bathroom strategizing moment when the water isn't in use can be utilized. If you bath for less than 5 minutes you will save as much as 5000 gallons of water per month.
You can Catch water with a rain barrel or some other water-catchement system so you don't have to use municipal water to wash your car or water the flowers. P.S. When you do water your garden or lawn, make sure to do it early in the morning or late in the evening, when water is less likely to evaporate.
Don't flush tissues you used to blow your nose in the toilet. Place them in a waste basket, and you will save water. (I'm so guilty of this)
Protect community water rights by getting active in 'self governance.' Take a call to action against corporations or agency that take over rivers, streams, oceans and aquifers as waste water dumping places. Speak up for the protection of water rights as a human right. Support non-profits that concentrate on water conservation.
Urge government leaders to support a full clean up of oil spills, like the one that is happening in Port Harcourt. It is super harmful to the health and it has destroyed the sea foods thereby promoting food insecurity, increase in fish prices and leaving many out of business.
When buying new appliances like washers, dryers, refrigerators, and more, consider purchasing models that conserve water, not just electricity.
Have your water meter checked if you get a bill that seems higher than usual. A high bill may indicate unseen leaks.
Encourage your friends, school, office, church, civic group, or other social gathering place to conserve water by having a water-saving information meeting or engage in water-conservation projects.
Fix every leaky faucet. Water wasted in every second of the day can fill five gallons.
How can we reduce floods, drought, water pollution, etc. We can by:
Educating to change consumption and lifestyles
Inventing new water conservation technologies
Recycling wastewater
Improving irrigation and agricultural practices,.
Appropriately pricing water
Developing and enact better policies and regulations
Improving water catchment and harvesting
Climate change mitigation
Address pollution – solutions to water.