Holla!
With the urge to look your best and the desire to have a smooth skin, facial/body masks are necessities for fulfilling such goals.
Yes, masks! You might be thinking "I cant afford a spa treatment or those expensive masks right now". Well how about I show you some recipes you can do yourself just under your nose and right in your kitchen store.
Masks should stay on for 10-15 minutes and can be washed off with warm water and/or hot washcloth (by running the washcloth under hot water and squeezing out the excess water and pressing it gently on my face for some minutes for the water to settle in) in a circular motion.
Getty Images
Cocoa-Avocado Hydration Mask
"Avocado is extremely hydrating, cocoa is pore-refining and a great antioxidant, and honey is antibacterial and soothing."—Holly Monson, Spa Manager at Ocean Pearl Spa.
Recipe
1. Mash 1 quarter of avocado.
2. Stir in 1 Tblsp. cocoa powder and 1 Tblsp. honey.
3. Mix and apply to clean face for 10 minutes.
4. Remove with warm water, tone, and moisturize.
Oatmeal and Yogurt Mask for All Skin Types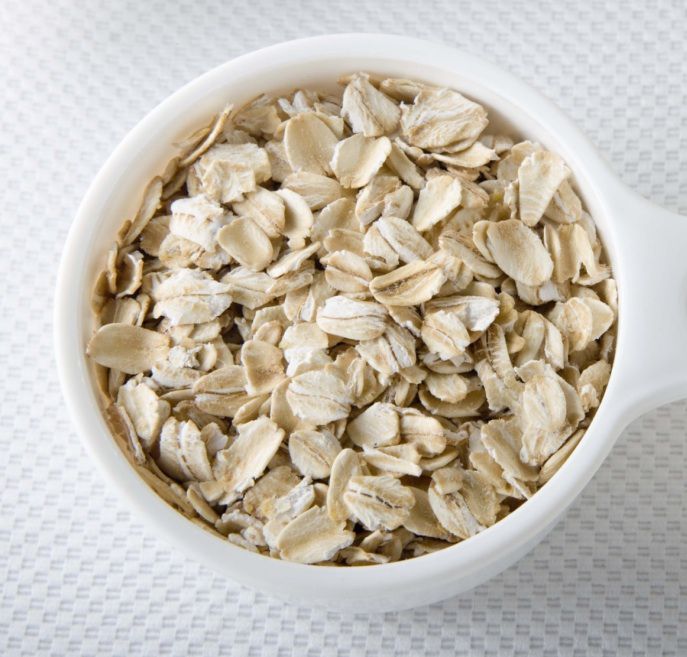 This face mask is suitable for all skin types and is super simple to prepare. It cleanses and rejuvenates the skin.
Recipe
1 tbsp oatmeal, finely ground
1 tbsp live, organic yogurt (skip the flavored stuff)
A few drops of honey
Add the yogurt to the oatmeal in a small bowl and mix together. Warm a few drop of honey. To do this, warm a spoon under hot water for a minute, then add a few drops of honey to the spoon.
Stir the honey into the yogurt and oatmeal mixture.
Apply the mask to the face. Leave it on for 10 minutes, then rinse off with several splashes of warm water. Follow with a warm washcloth.
Skin Brightening Turmeric Face Mask
Turmeric, a bright yellow spice used in many Indian, Southeast Asian and Middle Eastern curry dishes, when combined with yogurt, milk or olive oil, has potent anti-inflammatory and antioxidant properties. It is a common practice for Indian brides (and, apparently, their grooms) to smear a turmeric paste made of the powder and sunflower oil on their skin to brighten their complexions for the wedding. It's main ingredient—curcumin—works to suppress excess melanin production caused by sunlight. This is one reason women love it because curcuminoids are great for treating chronic inflammation, skin irritations, and sun damage-all of which can cause premature ageing. Ermm, did i see someone rushing to the market to look for a turmeric?
Turmeric face mask brightens the skin, leaving it looking glowy. The key to the glow is in the turmeric powder (women have used this as a skin brightener for decades), and you can re-create this mask with lemon juice and yogurt if your skin tends to be oily, or with olive or almond oil if your skin is on the drier side. Warning: Turmeric powder will stain but not to worry the stain wears off after a few hours.
Ingredients
1/4 teaspoon turmeric powder.
2 tablespoons flour or cornstarch (to thicken the paste).
A few drops of honey.
For oily skin: 1/4 cup plain yogurt & few drops of lemon juice.
For dry skin: 2 tbsp coconut oil, sweet almond oil, or olive oil (more if you desire)
Preparation
Mix the flour and turmeric together. Once combined, stir in the honey.
If you have oily skin: Add lemon juice and stir. Slowly mix in the yogurt until a creamy paste is formed. Use more or less yogurt to your liking.
If you have dry skin: Add the oil slowly and stir until a paste is formed. Add more for more creaminess.
Apply mask to face and neck.
Leave the mask on for 15-20 minutes.
Using a warm, wet washcloth that you don't mind staining (turmeric will stain), rinse off the mask.
Sugar or Salt Scrub (Great for Dry Skin)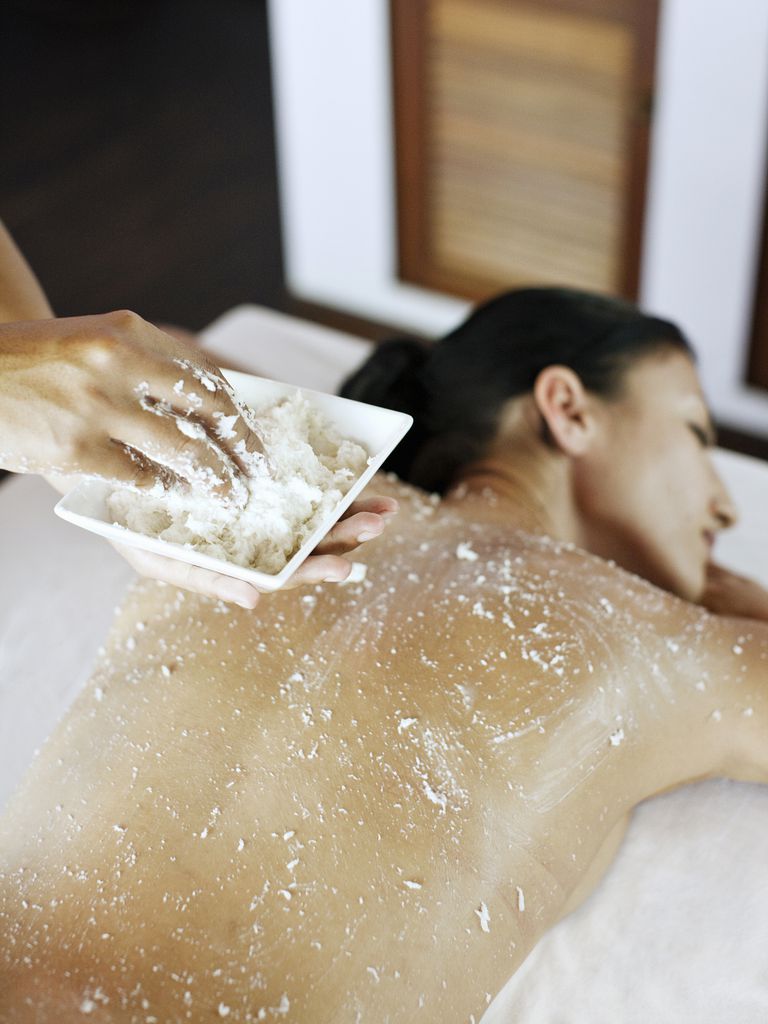 You can treat yourself to an all-over body scrub at a tush spa or you can walk up to your kitchen cabinet and organize a body scrub. Why buy a fancy scrub when every ingredgient needed is staring you right in the face? All you need is a quick recipe made up of salt or sugar, body oil, and a nice warm water bath and you're good to go!
The Popular Brown Sugar Facial Scrub With Honey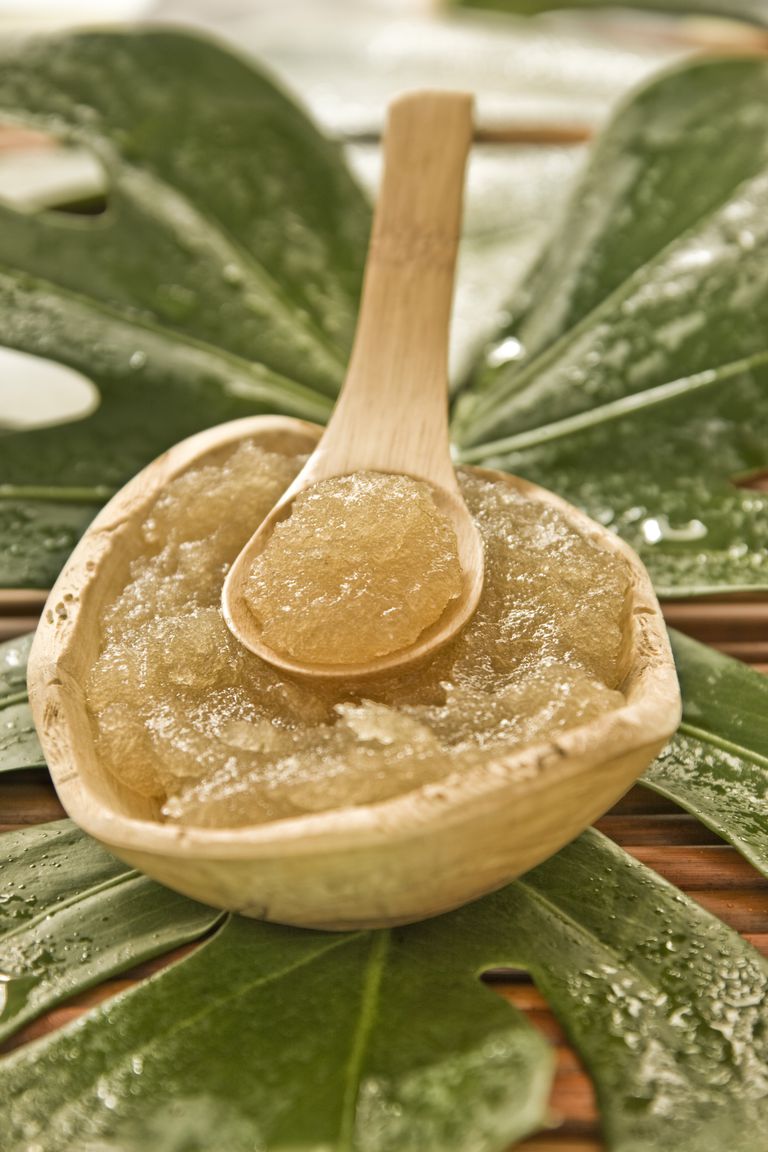 This popular and simple scrub is amazing, apart from being a natural exfoliant, it doesn't tear at the skin like oatmeal or salt can do and it tastes delicious if it somehow makes its way into your mouth. Yummy! This popular scrub includes honey and oils. It's a must try over and over again!
What scrubs are you currently using? Are there any homemade collections? Do share.
Cheers to a beautiful skin!